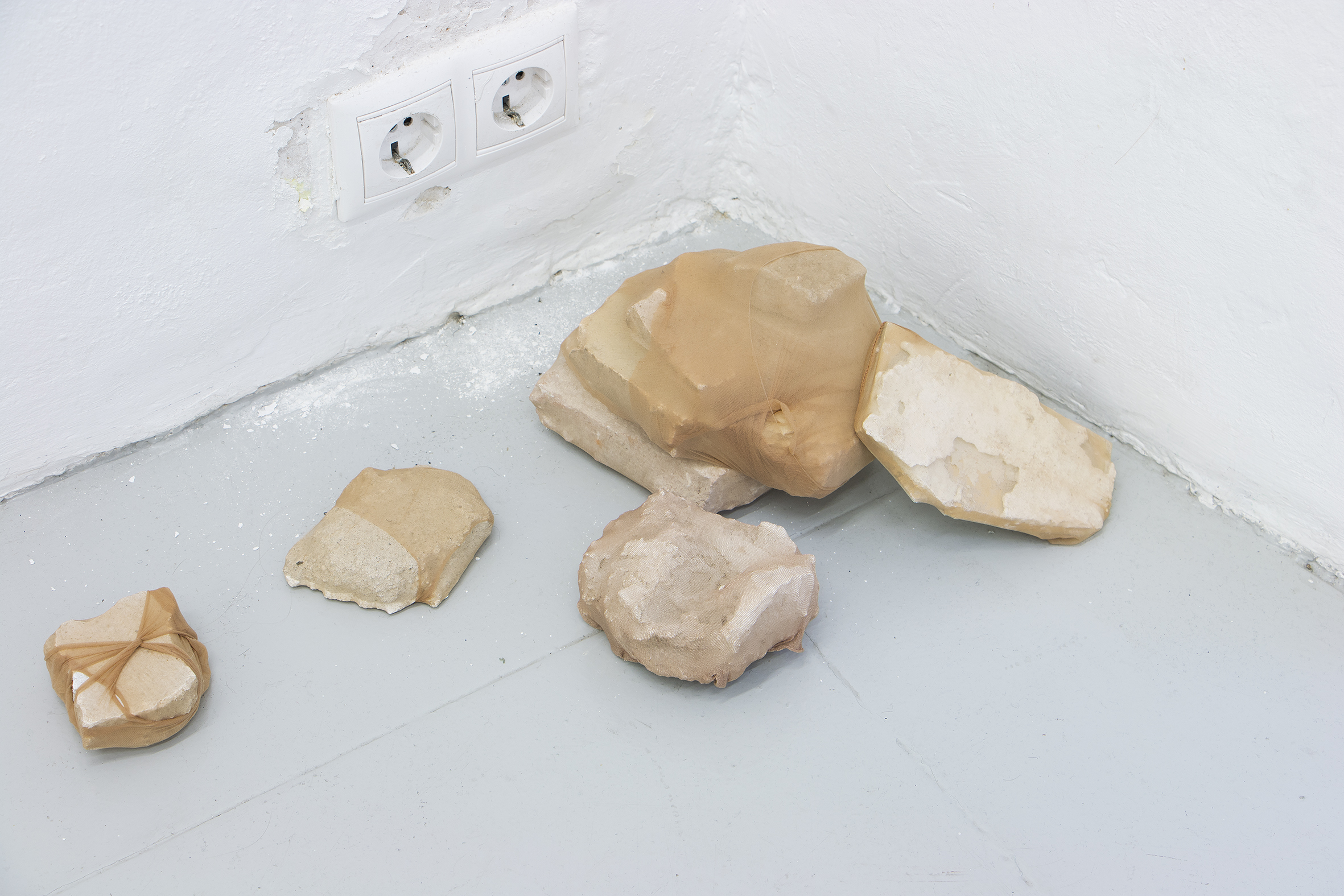 Salve, Folded foam, paua shell, dimensions variable

Everything is Wrapped in You, framed collage, 42 x 52 cm

Sad City, Soft City, Translucent PVC, office chair, dimensions variable

Disengage, Moulded clay, dimensions variable

Endless Motion, Series of oil paintings on archival paper

Rooms, discarded wall rubble, panty hose, dimensions variable

This work was made during residency at Homesession in Barcelona

The surfaces and objects around us form part of a strategic system of engagement. In my work I find myself harnessing and reshaping these things as a way of exposing and reclaiming them. At Homesession my first act in this vein was to 'trap' the bulky grey office chair that lingered awkwardly in the space. It implied rigidity and formality to me and I felt an immediate need to alter it. Triggered by Poble-Sec's history with water, I had been thinking about water as a placating, levelling and renewing force, one with an amorphous surface and depth which objects become suspended, quietened and disarmed in. I bought some translucent blue PVC and wrapped the chair in it and it immediately took on an absurd and contorted quality.

Following this I continued to explore the ethereality of water as a means to connect with the infinite and the cosmic, as well as humanity's inevitable need to mould, confine, fetishize and politicise natural forms and resources. Using somewhat crude synthetic allusions to the elements, coupled with traces of the real thing, Turn it into Water is a rumination on the way we navigate through confining environments, and the primal unknowns which linger behind our social frames of reference. Taking the office chair as a starting point, an object which encourages fluid efficient movement while ultimately confining the user to desk oriented work, Turn it into Water looks to arenas which aim to limit our agency, and explores the tragicomedy of capturing and entrapping the elusive.